2. Do you have a flaking system?
What is a flaking system? Flaking systems are lines of various types that cradle and control your main sail when you drop it, making it easier to drape and store.
Dutchman systems have two or three vertical filaments that are installed through small holes cut in the sail.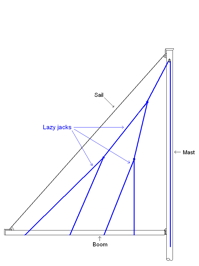 Lazy Jacks form a cradle and install on both sides of the boom, using four to eight cut outs (2-4 on each side). Please note that cutouts are NOT counted in pairs. Count the total number of coutouts needed in your cover for all Lazy Jack lines.

Both types of flaking systems require cut outs in the sail cover


Select a flaking system
(additional charges apply)