Finally! A simple bug screen for your companionway.
These screens have received high ratings from Practical Sailor, which judged the mesh small enough to prevent no-see-ums from getting through!
This unique companionway bug screen comes in six sizes:
78" long x 42" wide (rectangle)
72" long x 36" wide (rectangle)
68" long x 48" wide (tapering to 28" wide at bottom)
68" long x 60" wide (tapering to 28" wide at bottom)
77" long x 40" wide (tapering to 28" wide at bottom)
44" long x 38" wide (tapering to 29" wide at bottom)

Please note: On the tapered screens, the tapering begins at the halfway point of the length, 34" and 39" respectively. The exception is the 44 x 38 screen. The taper begins at 26 inches. If you are unsure of your companionway dimensions, please measure to verify them.

The screen material is built to military specs and is fire retardant. It ties to the handrails and drops to the cockpit floor. No velcro or frame is needed. You can open the slider all the way for easy, well-protected access to and from the cockpit.

Sides are ballasted with a series of lead weights 1/4" diameter by 1/2" long, which are rust free, non-magnetic and heavier than stainless steel chain. Their short (bullet size) lengths and heavy weight allows them to follow the contour of your companionway, thus completely bug-proofing the boat. Needless to say, the screen will not blow around, either!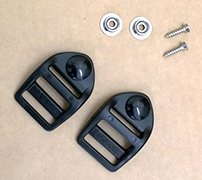 If you need a more secure attachment point, a snap kit is available below. Simply screw the male half of the snap into any wood, plastic, or fiberglass surface. Then snap on the buckle and thread in the leads from screen.



Need Hatch Screens, too? Click Here!