26S Kick-Up Conversion Kit

This transom mounted conversion rudder is the most advanced rudder of its kind! It offers tremendous advantages in handling and performance. Your Mac 26S will now have a tame helm, you will look forward to sailing upwind with reduced helm effort and better pointing. The all-stainless electropolished rudder head is immensely strong and torsionally rigid, with perfect balance and feedback for the helmsman. The kick-up rudder also features a one-line uphaul/downhaul system, which will raise or lower the rudder with one pull.

The kit includes modified gudgeons for transom-hung conversion

The Patent-Pending design incorporates a 316 Stainless nitrogen charged gas strut for perfect blade control in all situations. The rudder stays down, but if an obstacle is encountered the gas strut allows the rudder to come up quickly, then reset itself to the fully down position. Beaching is now a joy instead of a chore. The blade is solid HDPE, true NACA 0012 airfoil design, offering maximum lift with minimum drag. This rudder also rotates through a full 180 degrees for launching and mooring with ease. World class in every regard, the Unfoil rudder is unrivaled in performance, durability, ease of use and value. Original rudders frequently fail at the waterline and rarely fail during good conditions. So, do a thorough inspection of your original equipment rudder frequently; if replacement is desired, we suggest getting the Unifoil rudder assembly, which will improve performance, comfort and convenience.

This kick up assembly comes with an African mahogany and white ash, eight layered, laminate tiller for a seamless installation of your new rudder assembly. It comes ready-to-varnish or oil.

Tiller has a three year warranty and rudder assembly has a lifetime warranty to the original owner.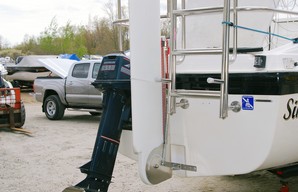 See pricing and purchase options for:

Shipping time: see chart
Made to order: Yes - Please read return policies