| Johnson Marine Hardware |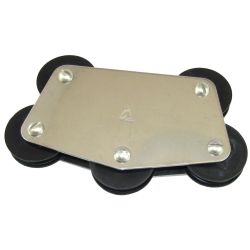 This adjusting car replaces seperate blocks and connecting members. Tandem sheaves eliminate severe flexing of the backstay. The 38 series (shown) with Delrin sheaves are intended for boats under 30ft., while the husky 39 series with aluminum sheaves is intended for boats up to 40 feet.
Note: for maximum car release, use a 1.5 :1 ratio between backstay base width and car height.