Due to supply chain disruptions and new warehouse safety measures some shipments may be delayed up to 72 hours.
Mini-Divers Dream Plate Anode - Magnesium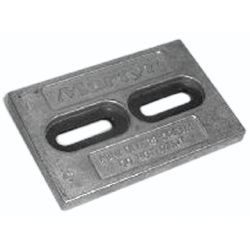 Magnesium the ideal anode material for boats that operate entirely in freshwater. Magnesium anodes have a higher oxidation potential than zinc or aluminum anodes, making them particularly well-suited to the less concentrated electrolyte of freshwater environments. Additionally, zinc anodes, and to a lesser extent aluminum, can accumulate a white crust of oxide if exposed to freshwater for more than a few weeks. This coating effectively seals the anode, preventing it from performing its intended function. Magnesium anodes will become very active in saltwater where they will probably only last a matter of months. If you berth your boat in freshwater, but use it in saltwater for more than seven days (or 14 days in any one year), you should consider changing to aluminum anodes which perform well in a broad range of electrolytic environments.