Due to supply chain disruptions and new warehouse safety measures some shipments may be delayed up to 72 hours.
Weld-On Plate Anode - Zinc, 6 in. x 12 in. x 1-1/4 in. Thick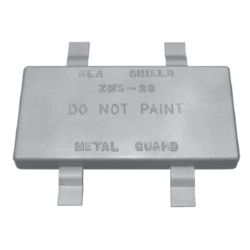 Standard with Steel Straps
The ZHS-23 plate anode comes standard with galvanized steel straps that are 3/16" thick x 1-1/4"W x 10" tip to tip total length, on 6" centers.

Aluminum straps are available by special order.